SoFlo Vegans Party
SoFlo Vegans Party is your chance to join others for a night of food, music, and exciting giveaways. We celebrate special occasions like our anniversary or holiday events.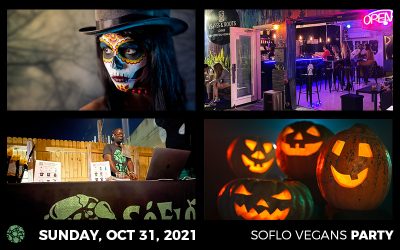 Looking for something fun to do on Halloween in a vegan-friendly environment? Join other members of the SoFlo Vegans Community as we enjoy plant-based food, exotic beverages, cool giveaways, and music from SoFlo's own Mr. Russell. Sunday, October 31, 2021 | 7 PM -...
SoFlo Vegans Partners
The following businesses are featured participants in one of our many partner opportunities.
Community Matters
Learn how you can help SoFlo Vegans continue showcasing and supporting the vegan community in South Florida.