We are celebrating #NationalPecanCookieDay with a wonderful vegan recipe! Pecan is an Algonquian word, meaning "a nut requiring a stone to crack." A member of the hickory family, the pecan is native to central and southern United States. One of the best ways to enjoy the celebration is by having freshly baked pecan cookies straight from the oven. Add a cold glass of plant milk to wash it down, and you'll be in paradise.
How To Make Vegan Butter Pecan Cookies
To view the full recipe, please visit Cruelty Free Crystal.
To make these vegan butter pecan cookies, you should first get the butter to room temperature. To do this, you can leave the butter out of the fridge for a few minutes until softened, or you can microwave in a bowl for about 10 seconds. You want the butter to be soft, that way it is smooth when combining all of the ingredients. 
Once your butter is a soft, add it to a bowl with brown sugar, regular sugar, vanilla, and plant-based milk. Then mix!
Next, in a separate bowl, mix together dry ingredients. If you'd like to do this gluten-free, you can use gluten-free flour 1:1. You can also try coconut or almond flour, the taste and texture will be a bit different but still yummy!
Then you can add the wet ingredients to the dry ingredients, stir to combine. After the mixture is smooth, go ahead and fold in the choped pecans.
Once you have the dough ready, use your hands or a scoop to make round-shaped balls and place on a baking pan lined with parchmet paper. Or if you have a non-stick pan, even better!
After the cookies have baked for about 15-18 minutes (or until golden brown), remove from the oven and let them cool for a few minutes. Grab a glass of cold plant milk, and enjoy!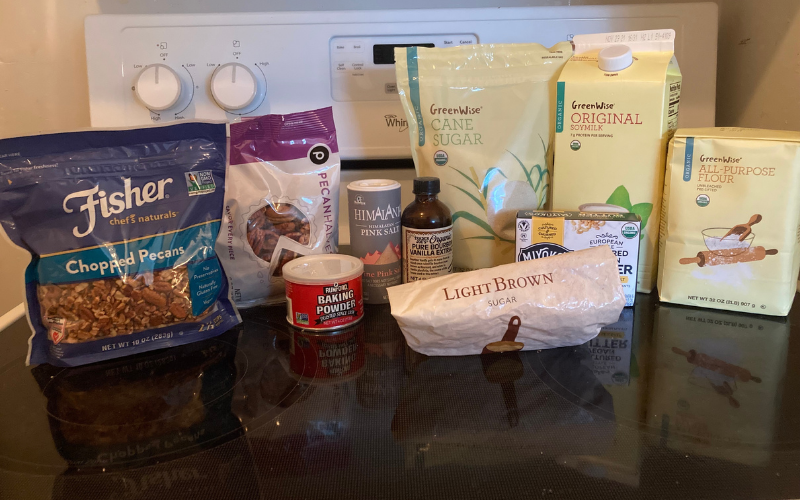 Ingredients
1 cup all-purpose flour
1/2 cup softened vegan butter
1/2 cup brown sugar
1/2 cup chopped pecans
1/8 cup sugar
2 tbsp non dairy milk
1 tsp vanilla
1/4 tsp salt
1 tsp baking powder
Instructions
1. Preheat oven to 350 degrees F. Line a baking sheet with parchment paper.
2. First, mix together butter, brown sugar, regular sugar, vanilla, and milk.
3. In a separate bowl, mix together dry ingredients: flour, salt, and baking powder.
4. Add wet ingredients to dry ingredients, and stir until combined.
5. Next, fold in the chopped pecans until evenly dispersed.
6. Using a cookie scooper, place equal amounts of dough into round circles on your baking sheet.
7. Bake in the oven for 15-18 minutes or until sides look golden brown. Let cool.
8. Enjoy!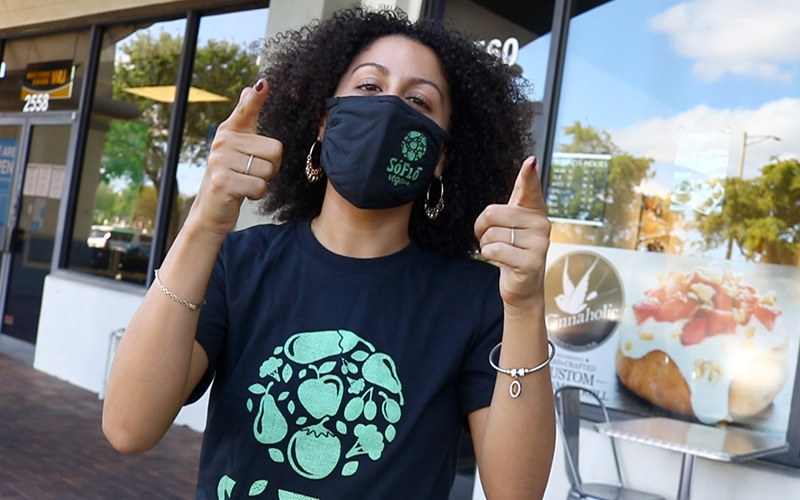 Lauda Gomez
Council Member | Event Manager

Lauda has been a long-time supporter of SoFlo Vegans and became the first member of our Council of 7 in March 2021.
Become a member of SoFlo Vegans and help make South Florida a global hotspot or veganism.