Rachel Black, Senior National Volunteer Coordinator for the Humane League joins us to share their organization's mission, address misconception surrounding animal rights activism and how listeners can get involved.
Interview with Rachel Black from the Humane League
Rachel Black is the Humane League Senior National Volunteer Coordinator for the United States.

The mission of the Humane League.

Some of the successes through the campaigns launched by their organization.

List of actions listeners can take to help The Humane League.

Dispelling misconceptions about animal activism and how to avoid burnout.

How the perception of an activist in society impacts enrolling new volunteers.
National News
FDA Deems Impossible Burger Safe for Consumption

Impossible Burger receives a GRAS (Generally Regarded as Safe) letter from the Food and Drug Administration in regard to the novel ingredient soy leghemoglobin ("heme").

In 2015, the FDA expressed that Impossible Foods needed to provide further information.

The FDA does not require that foods are tested on animals, but Impossible Foods can voluntarily engage in animal testing, as it is the most widely recognized method of gaining approval for novelty ingredients (such as caffeine).

In an August 2017  statement entitled "The Agonizing Dilemma of Testing on Animals," Impossible Foods founder Patrick O. Brown, a biomedical researcher and vegan of 14 years explained the company's decision to test heme on rats. In his statement, he expressed that choosing the option that advances the greater good is more important than ideological purity. Also, avoiding the dilemma was not an option and they hope they will never have to face such a choice again.

Since launching in 2016, the Impossible Burger has expanded to the menu of nearly 2,500 points of distribution, including 140 locations of White Castle, in-flight on airline Air New Zealand, Applebee's, The Cheesecake Factory, 37 Live Nation amphitheaters, Green Bar & Kitchen, Vegan Fine Foods and more locations around the South Florida area.

Source

VegNews

Nutritional Yeast Market Poised to Boom by 2027

A new report compiled by market research firm Fact.Mr reports that 17 percent of the US population between the ages of 15 to 70 are currently consuming plant-based products such as nutritional yeast.

Similar findings have predicted that the tempeh industry would reach $5.8 billion by 2026 and valued the tofu industry at $24 billion by 2022.

Source

VegNews

338 Dairy farms Shuttered in Wisconsin This Year

Dairy farms across Wisconsin are ceasing operations at a rate that is 30 percent higher than this time last year.

Media outlet Dairy Herd reported that this week 338 dairy farms in Wisconsin have ceased operations thus far this year.

Aria Foods, Dean Foods, and Marcus Dairy are just a few companies ended their contracts, citing "increased production and market volatility".

Dean Foods has pivoted toward plant-based brands, becoming the majority shareholder of flax milk-based company, Good Karma Foods.

Some have cited that Walmart's consolidated dairy processing operations is to cause of this trend, a report released this month by animal-feed supplier Cargill revealed that global milk consumption has been in a steady decline for more than one decade, plummeting by 22 percent between 2006 and 2016.

Source

VegNews

2.5 Billion-Pound US Meat Stockpile Nears Record High

Cold-storage meat warehouses are nearly full due to a decline in consumer demand for chicken, pork and beef.

This is according to new figures released by the United States Department of Agriculture (USDA).

While tariffs imposed by China and Mexico have dampened the ability of the US to export, consumer demand has had a significant impact.

The USDA estimates that the industry will produce 102.7 billion pounds of meat this year.

Dog Meat Serving Restaurant in Cambodia is Now Fully Vegan

Sabay Vegalicious in Cambodia reopened as a fully vegan eatery, serving plant-based shiitake jerky and vegan shrimp.

Marc Ching, the founder of animal-rights organization Animal hope and Wellness Foundation, approached the owners in 2016 and offered his help to remove animal products from the restaurant menu. He offered to finance the restaurant as long as dog meat isn't on the menu according to Chom Dymong, one of the restaurant's owners.

Beyond Meat Obtains non-GMO certification

Announced this week that they've secured non-GMO certification status for their entire product line.

The Non-GMO project conducted a one-year review of the vegan brand to ensure that all of its ingredients, suppliers, and manufacturing facilities are free of genetically modified organisms.

The company opened a 26,000-square-foot innovation center in California dubbed "The Manhattan Beach Project. Scientists, food experts, and chefs are challenged to engineer new products that mimic animal-based meat from plants.

In the midst of an aggressive worldwide expansion, planning to expand the distribution of Beyond Burger to more than 50 countries by the end of the Summer

Beyond Meat is also opening a second production facility in Missouri

Quorn Invests $9 Million to Develop Its Own "Bleeding' Vegan Burger

33-year-old vegetarian brand opens a research and development facility.

Compete with Beyond Burger and Impossible Burger.

Reported a 12 percent rise in sales in the first six months of this year.

According to Quorn CEO Kevin Brennan, the global meat-free industry is growing by 10 to 20 percent annually, and Quorn expects to reach $1 billion in annual sales by 2027.
Local News
SoFlo Vegans Event

Starting on Tuesday, August 22, SoFlo Vegans Unite will be hosted at Vegan Fine Foods.

We are finalizing the date for our next SoFlo Vegans Speak event at Nutrition Smart

August Vegan Potluck on August 5 from 12-3pm. Held at Lake Wyman in Boca Raton. We will have a tent and will be hold special giveaways and providing information about our programs and events.

Discount Card Program

New partners announcement:  Vegan Fine Foods, Holi Vegan Kitchen, MANNA Life Foods, Vinos on Galt Mile and Las Olas, That VEGAN FOOD TRUCK, Juno Bruno Organic Vegan Hair Salon and Anuttara Yoga Shala.

$10 for the 2018 card, found on our website and on Facebook. Also sold during our events.
About SoFlo Vegans Podcast
The SoFlo Vegans Podcast is your gateway to what's happening in the world of veganism. We feature prominent names in the global vegan community including the likes of Earthling Ed and Ingrid Newkirk and also showcase leaders in the South Florida community, providing answers to your questions about going or staying vegan. Listeners can submit questions using our voice line and hear their questions featured on our show.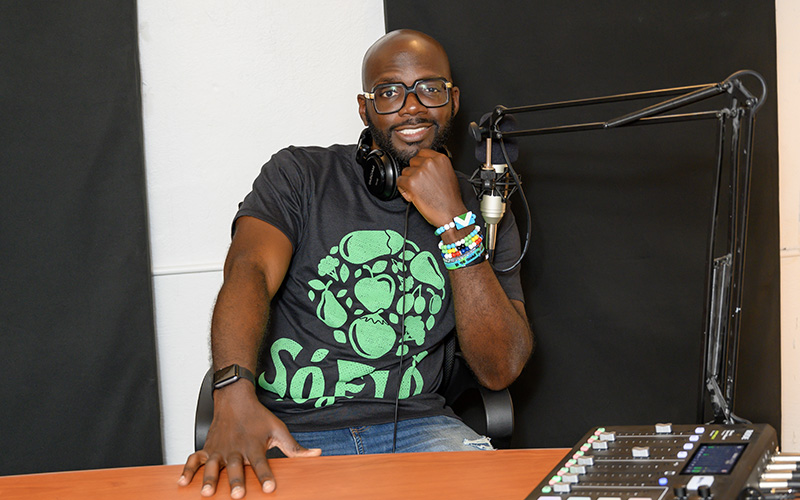 Sean Russell
General Manager | Founder

Sean Russell is an entrepreneur, media producer, and founder of SoFlo Vegans.