In this podcast, Sean Russell speaks with Sherri Johnson and Paige Parsons Roache from Plant Based In the Burbs Podcast about their vegan origin story, how they met, Unchained TV, and advice for people on their vegan journey.
About Sherri Johnson
Sherri Johnson is an entrepreneur, personal trainer, and lifelong lover of cooking. As a child, she watched her grandmother make magic in the kitchen, which solidified a loving and emotional connection to food. Eventually, Sherri discovered a passion for healthy living and veganism. She learned that plant-based eating was conducive to a healthy mind and body and is a compassionate approach to healing the planet and caring for its animals.
Through Plant-Based in the Burbs on UnchainedTV, Sherri shares her techniques for creating "veganized" versions of your favorite meals. With her friendly approach and infectious charm, she demonstrates that veganism is healthy and accessible to everyone. Through this platform, Sherri hopes to encourage others to explore the lifestyle that has completely changed her for the better.
Sherri is deeply passionate about helping others become the highest version of themselves. By sharing her expertise as a personal trainer and advocate for veganism, she helps clients and viewers create the body and lifestyle of their dreams. In addition to physical fitness and delicious food, Sherri plans on launching an activewear brand called W29 that promises to serve as a force to uplift and inspire women.
About Paige Parsons Roache
Celebrating being vegan for 7 years now, Paige has been committed to bringing ECO-VEGANISM to the forefront of every interaction: Environmentally conscious vegan living. After watching the documentary COWSPIRACY, she went vegan on the spot. Her daughter Katelyn, 13 at the time, choose veganism for the animals 6 months earlier. Paige, on the other hand, after being shocked by the amount of water it takes to put a hamburger on a plate or to have a lick of icecream, plus learning that animal agriculture is a leading cause of deforestation and climate change, chose to go vegan "for the environment." Soon after, she attended her first pig vigil with LA Animal Save/Animal Save Movement. Once she looked those baby pigs in the eyes, she knew why her daughter had gone vegan.
Cooking as a guest chef on LunchBreakLIVE after meeting Jane Velez-Mitchell at VegFestLA, and inspired by Jane's bold courage, Paige became a Contributor for JaneUnchained News. Reporting on all the latest animal rights' aspects, including The Save Movement's pig/chicken/cow vigils, various PETA protests, VegFests, book launches, Cube of Truths and vegan conferences, Paige became the Booker for LunchBreakLIVE, a daily cooking show, and Senior Booker for the JaneUnChained News Network. Now the Communications Director of the UnchainedTV streaming network, and co- producer/co-host of the Plant Based In the 'Burbs show, Paige brings inspiration, humor and humbleness to the kitchen, showing simple swap outs and easy recipes to inspire people to bring more plants on their plates.
About SoFlo Vegans Podcast
If you are a fan of this podcast, please consider leaving a short review on Apple Podcasts/iTunes. It takes less than one minute and helps us spread the vegan message and book hard-to-reach guests.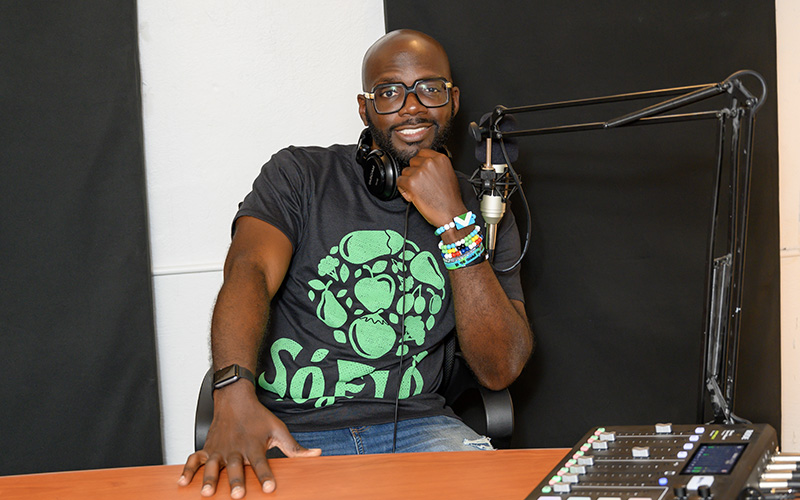 Sean Russell
General Manager | Founder

Sean Russell is an entrepreneur, media producer, and founder of SoFlo Vegans.
Community Matters
Learn how you can help SoFlo Vegans continue showcasing and supporting the vegan community in South Florida.