Meet our member Lauda, who became our first council member in early 2021! Below we share Lauda's background, interests, favorite food, and more. Show her some love in the comments below!
Name
Lauda Gomez
How long have you been vegan, how did you start?
I've been vegan for almost 7 years now. I watched "Food Inc" which made me go vegetarian. 1 year later while doing a search on veganism, I stumbled upon Gary Yourofsky's video titled "The Best Speech You Will Ever Hear". Watching that video completely changed my perspective on animal rights and about myself. I began to further understand my own ethical and moral system, and questioned so many things that I've never questioned before. From that day forward, I chose to align my actions with my beliefs, and committed to living vegan. Every vegan might say this, but going vegan was the best decision I have ever made. Not only because of the animals, which is huge for me, but because it pushed me to unlearn many habits, excuses, and biases that I had instilled in me since I was a child. Through animal rights activism and outreach, I also learned the socratic method of questioning and how to communicate with all kinds of people. Which has led me to learn more about myself and my challenges, so that I can grow and also help others do the same.
How long have you worked at SFV? How did you start?
I've been around SFV since about 2018. I found out about SFV through local vegan and animal rights events.
What are your duties at SFV?
I am a Creative Assistant, Social Media Coordinator, and at times an Event Manager.
Interesting facts or talents you want to share
Spongebob is my absolute most favorite show in the world. I like to sing, communicate with and meet new people, arts and crafts, cooking/baking, debates, philosophy. Also a champ in Mario Kart using Yoshi.
Favorite food
I love food too much to have a favorite, so many wonderful cuisines. Just as long as it's vegan, I'm for it!
Career outside of SFV
I work as a Creative Assistant at Lesaruss Media, which is owned by the founder of SFV 🙂
Community Showcase is about appreciating those who contribute and support causes, events, and efforts within South Florida.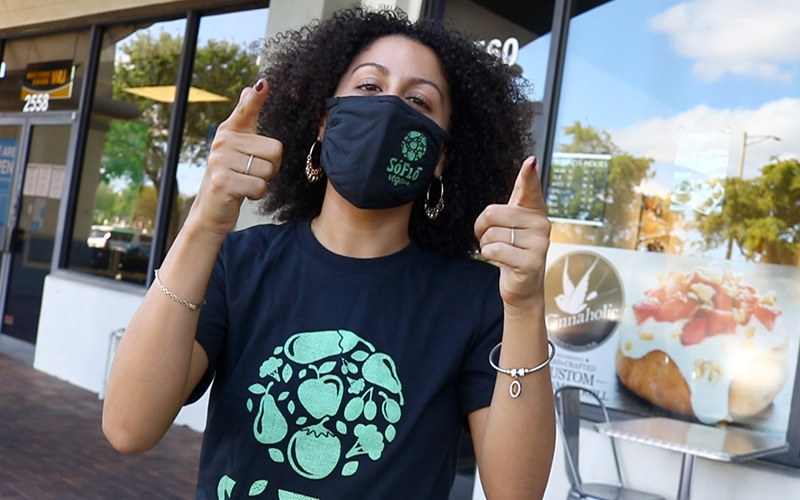 Lauda Gomez
Council Member | Event Manager

Lauda has been a long-time supporter of SoFlo Vegans and became the first member of our Council of 7 in March 2021.
Become a member of SoFlo Vegans and help make South Florida a global hotspot or veganism.