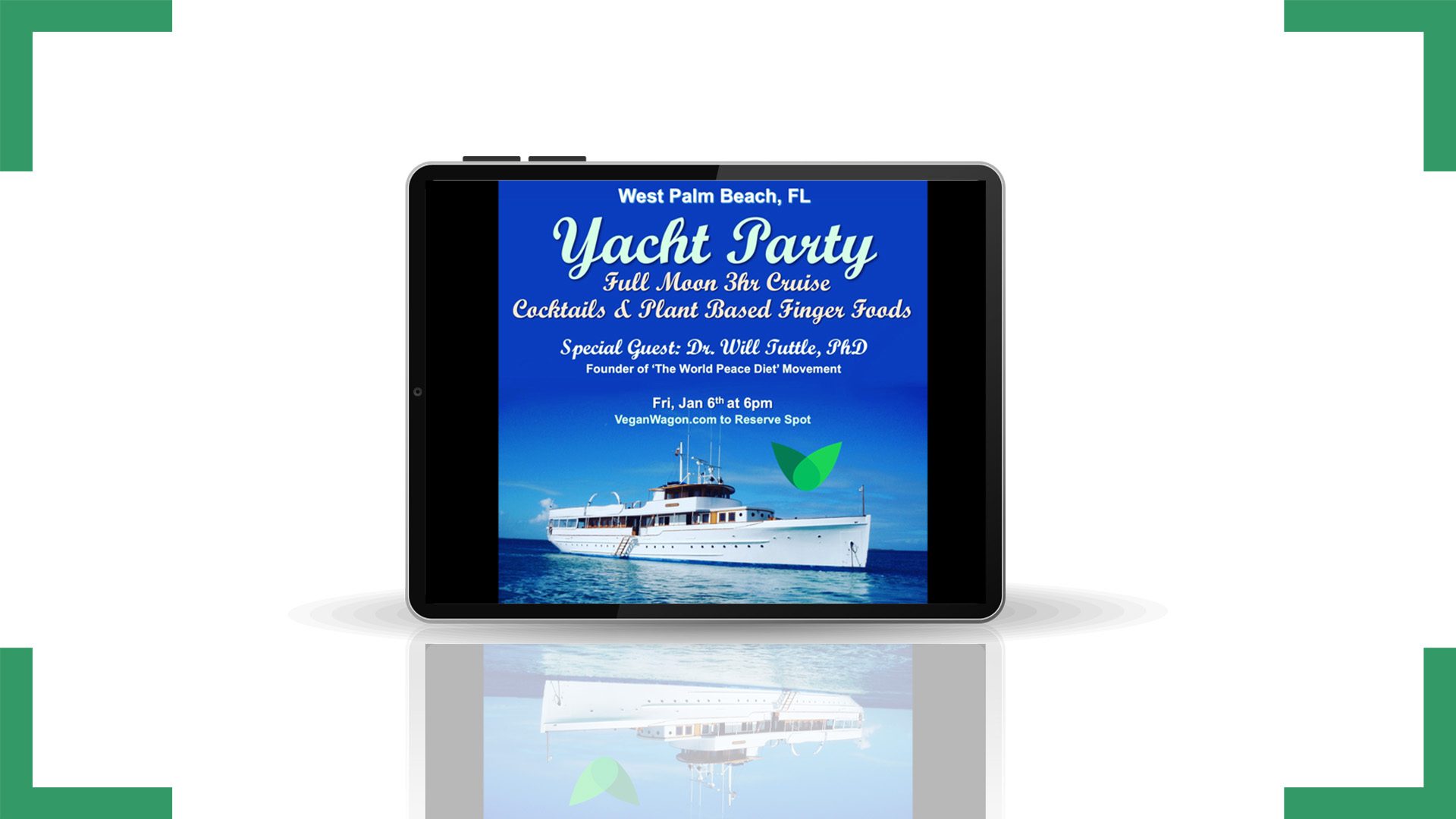 Yacht Party for Jan 6th Grand Full Moon with Cocktails & Plant Based Finger Foods in Palm Bech
Cocktail Party on the Mariner III Yacht for January 6th's Grand Full Moon with Plant Based Finger Foods in West Palm Beach FL for a 3hr Full Moon Cruise.
🎤 Special Guest: Dr. Will Tuttle, PhD
🍸 Cocktail Party with Bottomless Spritz
🥗 Plant-Based Finger Foods
🛥 Mariner III Yacht
🌕 3hr Full Moon Cruise
⏰ WHEN:
6 pm Friday, January 6th, 2023
You Have to Board Between 5:15 & 5:59 pm
Leaving the Dock at 6 pm Sharp (No Waiting!!)
✅ GET TICKETS:
https://VeganWagon.com/product/jan06
PRICE:
🔑 $100 for Members
🎟 $200 for Non-Members
🔑 GET MEMBERSHIP:
🎤 SPECIAL GUEST:
Dr. Will Tuttle, PhD
Interact with the Founder & Author of 'The World Peace Diet' Movement. He has been Internationally Recognized for His Work with Veganism, Environmental Activism, Evolution of Conscious, Meditation, Intuition Development, Music & Peace. Come Aboard to be Entertained & Inspired by Will & Madeleine Tuttle. – www.WorldPeaceDiet.com
🥗 MENU:
• Kelp Cacio Y Pepe
• Herbals Gazpacho
• Greek Style Stuff Cherry Tomatoes
• Yuzu Infused Avocado Tartare
• Duo of Remoulade
• Shiitake Meatballs
• Brazilian Nuts Manicotti
• Assortment of Raw Chocolate Desserts
📍DOCK LOCATION for BOARDING:
GPS: West Palm Beach Public Dock, Center
The Intracoastal Dock is directly across the street from:
100 S. Clematis Street
West Palm Beach, FL 33401
or… Across street from West Palm Beach Green Market
🚗 PARKING:
Banyan Garage at Banyan Blvd & Olive Ave
200 Banyan Blvd,
West Palm Beach, FL 33401
Also street parking and small parking lots
🛥 THE YACHT:
Mariner III was built in 1926 for Captain James Griffiths of Griffiths Steamship Company. Captain Griffiths used Mariner III for private use up until World War II when the Army commandeered her for wartime service. They ballasted down and set her out on patrol, mainly in the Aleutian Islands. After the war effort, the Army returned Mariner III to her owners. It know gives beautiful charters of Palm Beach Florida.
🌮 ALL CURRENT EVENTS:
https://VeganWagon.com/events