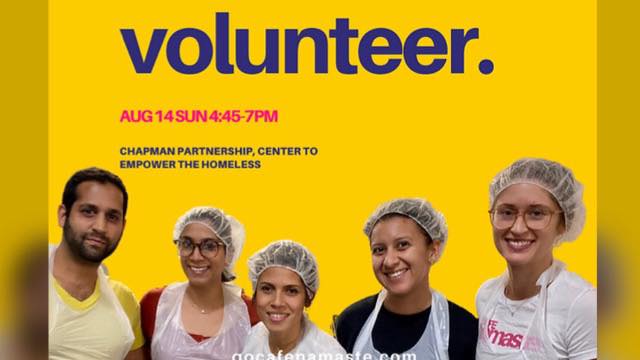 VOLUNTEER: Serve Meals to the Homeless
Serve with Love + Give Where you Live
Connect with new people, give back, and fuel your soul! Join us to serve meals to the homeless at Chapman Partnership, the center to empower the homeless. Chapman houses more than 800 residents to empower and provide skills to get our community out of homelessness. Of the 800, 40% are families. Whether you have been to one Cafe Namaste event or all of them, we value your commitment to the world and making a positive impact in your community. We'd love for you to help us volunteer and serve dinner to the residents.
We only have 8 spots. Please honor your word when signing up.
Location:
Chapman Partnership
1550 North Miami Ave.
Time: 4:45 PM – 7 PM (free parking across the street)
Required: Register Here
Registration must be completed the Friday before volunteering. Due to the nature of where we will be and privacy concerns, all volunteers must submit a valid photo ID and register with the Chapman Partnership online portal. No exceptions. It will take about 5 minutes to complete.
Notes:
Free Parking is across the street in the parking lot
You must arrive at 4:45 PM. We start serving at 5 PM sharp.
Dress: C Please wear a Cafe Namaste tee if you have one or pink, yellow or white colors! (conservative attire)
Sneakers, pants, and tee or long sleeves
You will be sent a separate email from Chapman to do a background check and review their policies.
About Project Namaste:
Cafe Namaste's Project: Namaste serves the community to improve the lives around us. Our goal is to empower individuals to be agents of change by providing volunteer programs to the community, partnering with existing non-profits, and offering wellness programs to the communities in need.
We work with local organizations focused on empowerment, wellness, and human development. We believe long-term relationships are the key to success and making an impact.
​
In addition to offering volunteer programs, we offer wellness classes, events, and general support to under-served populations, including homeless centers and to children in need.​
​
Our hope is that we strengthen community involvement in building a better future for all of us.