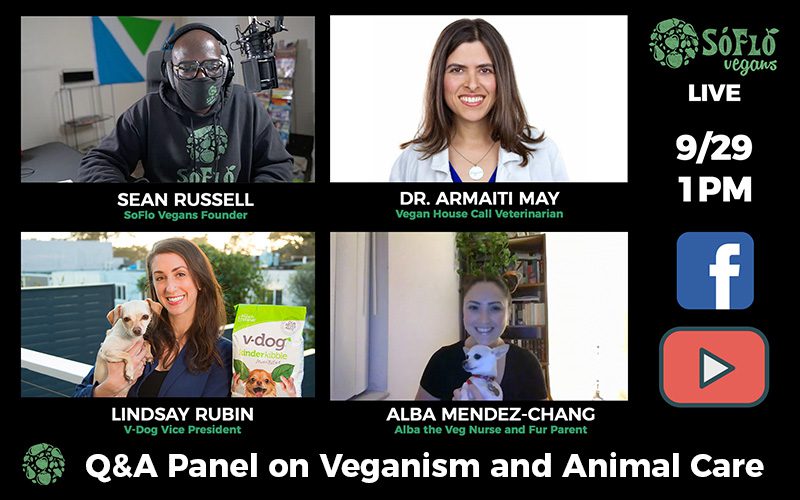 Veganism and Animal Care | SoFlo Vegans LIVE
Join us for a LIVE panel and Q&A session where we talk about veganism and animal adoption. Panelists include vegan veterinarian, Dr. Armaiti May, V-Dog Vice President, Lindsay Rubin, vegan fur mom, and SoFlo Vegans media coordinator, Alba Mendez, and your host and SoFlo Vegans founder, Sean Russell
Discussions cover topics ranging from animal care, ethical distinctions between adoption and ownership, dispelling of myths behind Plant-based foods for animals, and advice for anyone looking to adopt.
It all takes place Tuesday, September 29 at 1 PM ET on Facebook and YouTube. Come prepared to ask questions or submit them ahead of time so we can potentially read it during the panel. Send questions to [email protected] or use our contact form on our website. You can also leave a voicemail or send a video that may be shared during the show as well.
► RSVP
► Watch
► Guests
Lindsay Rubin
Lindsay Rubin is the Vice President at v-dog, a San Francisco-based vegan dog food company. Forever obsessed with animals, she ran her own dog sitting business in high school and went on to college where she became a vegetarian. After learning about the dairy and egg industries, she went vegan and became an animal rights activist. In 2013, she met Dave, the late founder of v-dog, and started working with the company as the first full-time employee. Fast forward to the present, Lindsay is proud to help lead v-dog – the current largest ethical, vegan business in the pet food space.
Dr. Armaiti May
Armaiti May, DVM has been a practicing small animal veterinarian for 15 years and vegan advocate for 21 years. From a young age, she loved animals and knew she wanted to devote her life to helping them. For the past 13 years, she has had a veterinary housecall practice for dogs and cats in the Los Angeles area.
Alba Mendez-Chang
Alba is a vegan nurse and contributor to SoFlo Vegans. She created The Veg Nurse Blog to document and share her experiences as a vegan nurse; to inform and inspire others to focus on their health and the protection of animals and the environment.