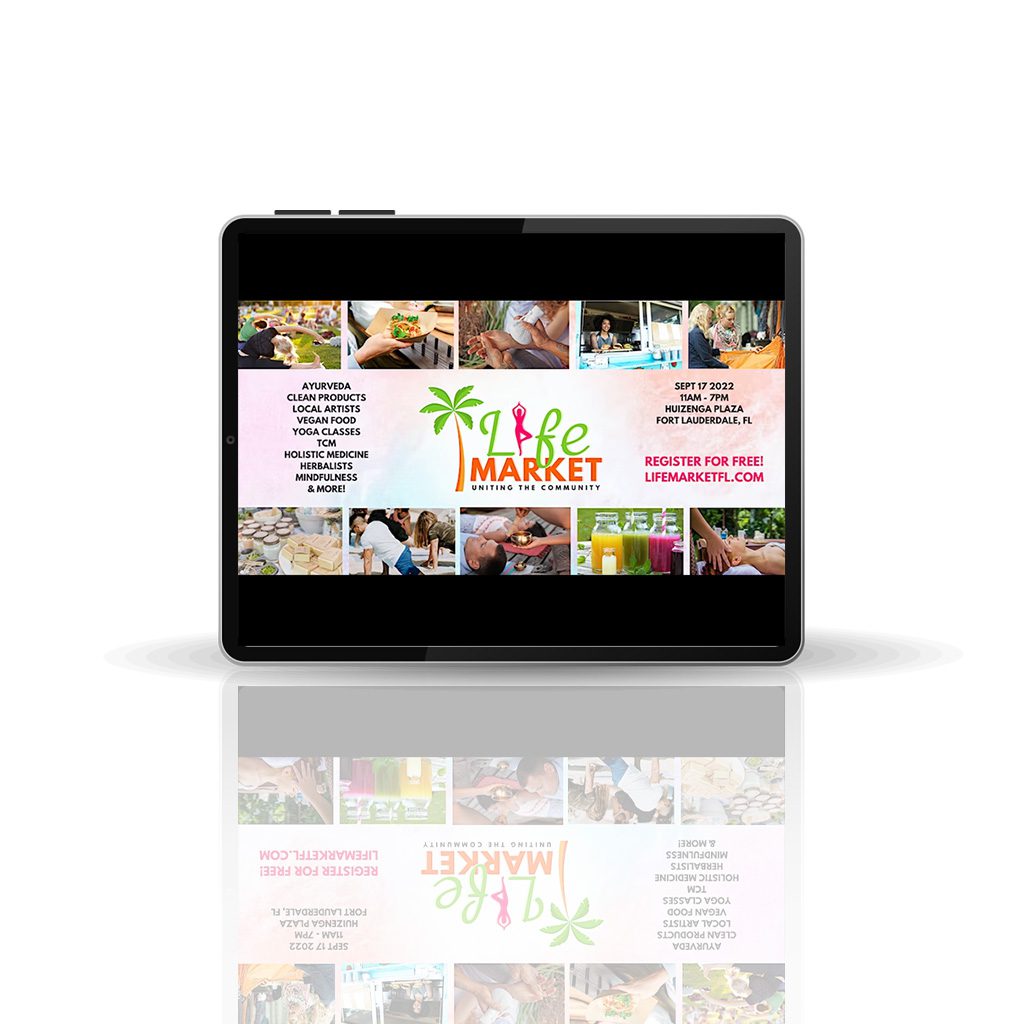 Life Market
A Pure Vegan Holistic Health & Wellness event in the heart of Fort Lauderdale in Huizenga Plaza on Las Olas Blvd on Saturday, Sept 17th, from 11 am to 7 pm. Lots of FREE activities for the family, and even the entrance is Free.
Try out Vegan food, Vegan products, and Alternative Health modalities (Ayurveda, Yoga, Meditation, Reiki, Acupuncture, Cold Therapy, Chiropractic, Energy healing, Art, and more).
Bring your yoga mat, bathing suit, reusable bottle, hula hoop, hacky sack, Tupperware, and picnic blanket!
Attend a yoga, meditation, or a sound healing session – or attend all!
Get a massage, chiropractic adjustment, a psychic reading, pulse or tongue analysis, and other cool services!
Ayurvedic & other Holistic Products and Services
Ayurveda – the ancient science/knowledge of life has been tried and tested over thousands of years. The sister science of yoga, Ayurveda aims at helping you live a balanced life. Come meet field professionals and get a pulse diagnosis, tongue test, and dosha evaluation, and buy wonderful products from various knowledge backgrounds!
Vegan Vendors
Vegan or non-vegan, this event is welcoming to all! Give vegan food a try from local vendors that are established in the community for their amazing taste profiles and vibe!
FREE GOODIES
Free Registration enters you into a RAFFLE for a ONE MONTH SUPPLY of SUJA JUICE! (2 winners)
BUDDHA PANTS will be giving FREE satchels to the first 500 registered/checked-in guests
ULTIMA REPLENISHER will be giving out FREE hydration stick packs to the first 500 registered/checked-in guests
SUJA Juice will additionally offer free samples of their amazing Juices
PROGRAM:
We have a FULL day (8 hours) program from 11 am – 7 pm! No matter what time you join, there is something FREE for you to do! (*donations are always appreciated!*)
Register at https://lifemarketfl.com