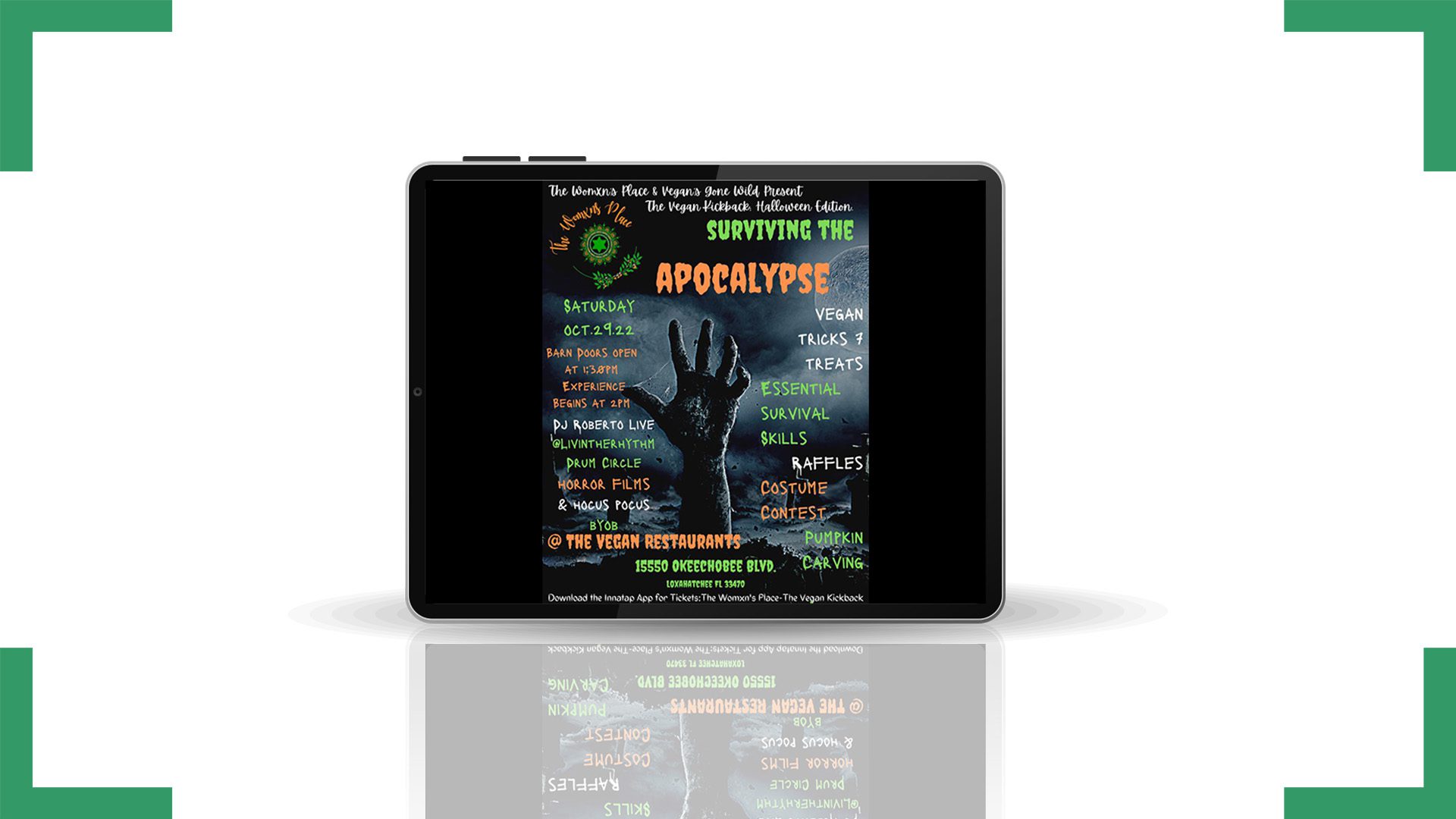 Halloween Edition: Surviving the Apocalypse
The Womxn's Place & Vegans Gone Wild Present: The Vegan Kickback. Halloween Edition: Surviving the Apocalypse. 🧟‍♂️🔪💀🎃
Join us on a 10acre farm, home of @theveganrestaurants on Saturday October 29th for our second Vegan Kickback!
We're the living amongst the dead on the 29th and the apocalypse is upon us. Are you prepared for the end of times? 👀😳
Conscious programming details dropping tomorrow! Check the line-up! 👇
-Get the Strap, Pistol Safety via @seanechi 🔫
-We Off the Grid, Grid Grid- No Heat Needed. Raw Food Cooking Class via Rahein Jones of @theveganrestaurants 🧄🥬🥒🥑
-Creating Calm In Chaos, Yoga Flow via @kemetic_yogi 🧘🏾‍♀️🙏🏽
-Escape the Walking Dead, Free Bootcamp for Patrons led by @cgwestpalmbeach 💪🏽🧟‍♂️
Throughout the day, horror movies will be streamed for your thrilling needs!
Hocus Pocus & Hocus Pocus 2 for the kids! Zombies after 👻💀
DJ Roberto Live joins the party at 5pm bringing us in with the Monster Mash Mix! 🧟‍♂️💀👻
Pumpkin carving/painting and Halloween artistry via @cosmicdreamflower 🎃🎃🎃🎃
Screen Print Press via @vinyl.teez 🧢
Halloween Candle Making via @goodvibescandles 🕯🕯🕯
Confirmed Vegan Tricks and Treats:
– @alkalineamos
– @lachiavegana
– @nombucket
– @theveganrestaurants
– @katys_lovebites
Edible plants & Spiritual Stones via @theplantgangsta & @daily.britt
Drum Circle Vibes via @livintherhythm
Halloween Costume Contest – @7:30pm
PLUG PRICING 🔌: $20
Week Of: $25
Day Of: $30
Tickets can be purchased via the app- Innatap. Search for The Womxn's Place storefront and find "The Vegan Kickback." Cash can be accepted day of. Reserve your tickets now!
This event is on private property and is BYOB. Halloween drink mixers will be available. 🍸
Pet friendly. Please keep dogs on leashes and clean up after them. 🫶🏼 we are VEGAN after all. 😍
Enjoy the Halloween vibe with us and learn something new. Meet your people. Expand your consciousness. Eat cruelty free. And simply KICK. BACK.