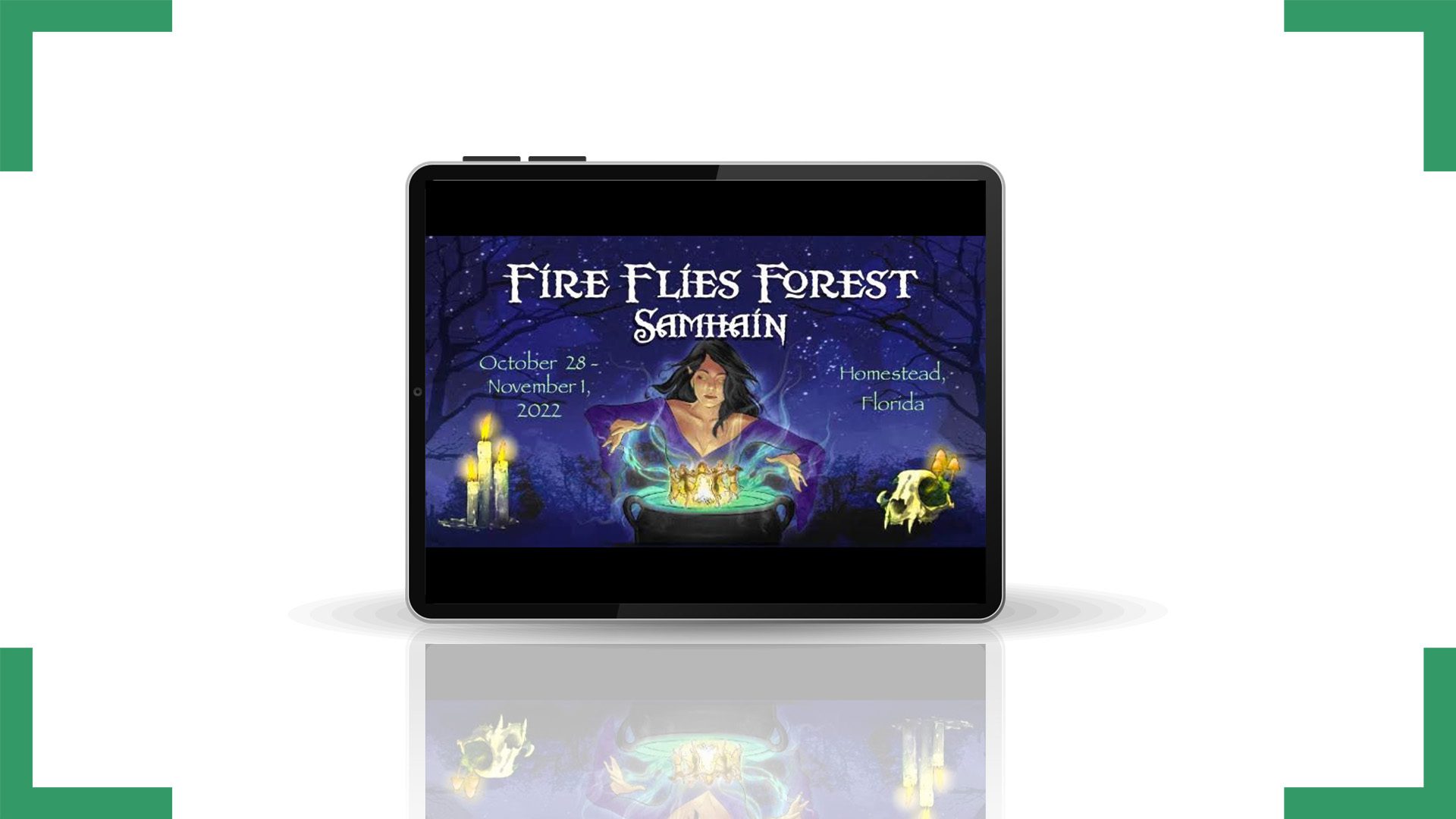 Fire Flies Forest "Samhain"
Samhain (Saa-wn) is the origin of Halloween it is the time of the year when the veil to the spirit world is thinnest. To honor this time, we intend to create a 4-day ceremony of celebration to connect with the spirit realm and our spirit within.
We welcome all love light beings, new-age witches, wizards, warlocks, fairies, mermaids, shamans, and magical practitioners to come back H'OM. To play and pray in a seed of Heaven on Earth. So that we may connect deeply and forge our chosen community.
For those willing to do the magical work on these Samhain holy-days, you will be gifted an opportunity to pierce the veil and connect with the spirit realm.
This weekend will be filled with participation, education, activation, liberation, and, most definitely, celebration! We are preparing for you many experiences that will entertain and awaken your mind, body, and spirit.
For Now, we will keep most details a mystery.
So trust and flow with faith.
Come light the fire within!
Fire Flies Forest is an empowerment gathering held with the main intention of lighting the fire within. Nature (The Forest) is our play and pray ground where we commune with her; to deepen our connection to ourselves and our community. Here we get clear and relish in the presence of the present. In this place, we honor our elders and the magick that has come before us. Offering sacraments of wisdom, music, art, and ritual prayerformance curated to forge higher versions of oneself.
The elemental pillars of Fire Flies Forest
Ether = Mystery
Activate with the magick of the unseen and unknown.
Earth = Ground
Ground into nature and a more humble way of being.
Water = Rejuvenate
Rejuvenate your life and the world around you.
Air = Intelligence
Learn from experts in their fields.
Fire = Empower
Participate to be inspired, to move, to create, and to transform your life.
**** Dress to Express ****
Friday "Spirit Animal"
Saturday "Masquerade"
Sunday "The Gods"
Monday "Witches and Wizards"
THE SCHEDULE OF MAGICK
7 Stages and Activation Areas!
SPECIAL EVENTS
– Cacao Candlelight Ecstatic Dance
– Masquerade Ball
– Samhain Fire Ceremony
– Immersive Projection Dome
– Musical Headliners "TBA"
– Elemental Prayformances
The daily content will consist of the following:
– Yoga
– Sound Healing
– Workshops / Presentations in the Healing Arts
– Live Music
– Interactive Art Installations
– DJs
– Fire Prayerformances
– Ceremonies and Rituals
– Sol y Luna Tantra Temple
– Womb Temple
– Sacred Fireside storytelling and song circles
AVAILABLE ON-SITE:
– 7 Bedroom Mansion (for more info and pricing, see in "ADD-ON" ticketing section)
– PARKING (Parking is limited, and we encourage CARPOOLING)
– Mindful Market along with Healthy Food and Elixirs and a variety of food vendors, clothing, and other vendors**
– Outdoor Showers /porta potties / Recycling stations
– FIRST AID and INFO Tent
– We have free water for all attendees
NOT ALLOWED:
– Alcohol
– Illegal Drugs
– Unconscious, aggressive, or sexual behavior
– Single-use plastic bottles
– Littering
– No RVs
*PLEASE BRING WITH YOU*
– Warm blankets and/or Yoga mats
– Water, water bottle, or refillable cup
– Additional Candles/Flowers for the Altar
– Shoes for dancing through the forest
– Open hearts and minds
GUIDELINES
THIS IS A LEAVE IT BETTER THAN YOU CAME EVENT. PLEASE BRING GARBAGE BAGS TO COLLECT ALL YOUR GARBAGE AND TAKE IT WITH YOU.
**NO DRUGS or ALCOHOL ** Please respect yourself and dive into this unique opportunity fully present.
THIS EVENT IS RAIN OR SHINE.
COMMUNICATIONS: Please join our TELEGRAM GROUPS
RIDESHARE: FFF Rideshare
EVENT INFORMATION: FFF Info
OFFICIAL SOCIAL MEDIA:
INSTAGRAM: @Fire_Flies_Forest
___________________________________________________________________
Volunteer App
Food Vendor/workshops/yoga
Email [email protected]
Vendor Application: NOT FOOD
Live Painters Application Email: [email protected]
—————————————————————————————————————-
You are not required to use a mask in this location.
Assumption of Risk and Liability Waiver
While attending the event, you may be exposed to the risk of contracting a communicable disease, including but not limited to COVID-19. By attending and/or participating in the event, you assume all such risks related to any illness (including COVID-19), injury or harm and are deemed to be given a full release of any liability to the venue owners; Fire Flies Forest, and all associated producers, sponsors, including their employees, and volunteers, to the fullest extent permitted by law.
Here is a link to our 2021 FFF SAMHAIN AFTERMOVIE at the beautiful H'OM Miami.