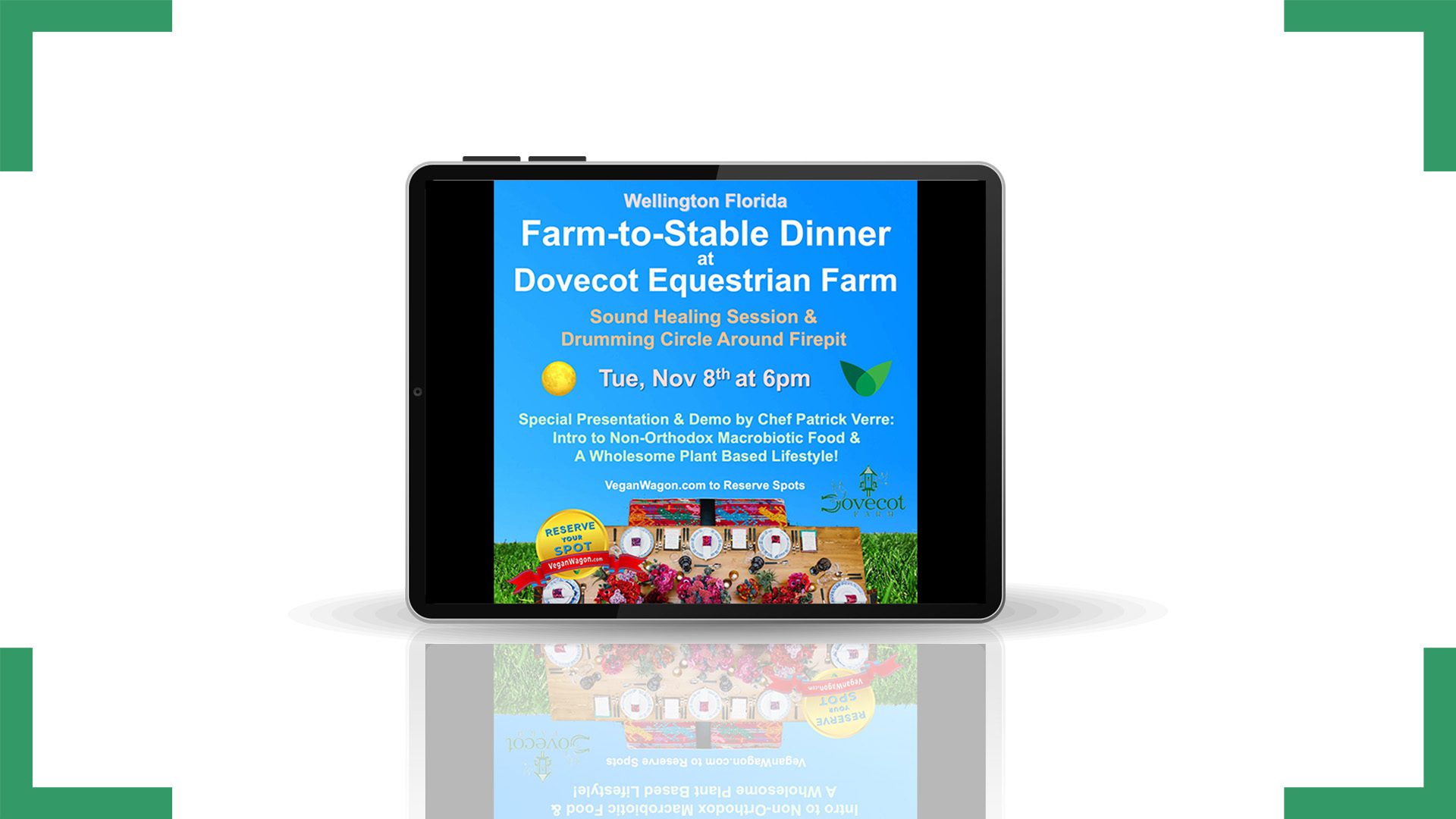 Farm-to-Stable Dinner at Dovecot Equestrian Farm
Farm-to-Stable Dinner at Dovecot Equestrian Farm on Nov 8th
A Plant-Based Culinary Voyage with Chef Patrick & Friends for a Dinner & Full Moon Evening.
Group Meditation
Plant-Based Meal – Bento Box (macrobiotic style)
Sound Healing Ceremony & Drum Circle Around Fire Pit & Under the Full Moon.
Led by Sarah Palmer
GUEST PRESENTER & DEMO: Chef Patrick Verre will do a Presentation: Introduction to Non-Orthodox Macrobiotic Food… A Wholesome Plant-Based Lifestyle… & Demystifying Yin / Yang!
Tuesday, November 8 2022, at 6 PM
Wellington, Florida
Come for the Food but Stay for the Full Moon Camp Fire!
$150 for Guests
  , $75 for Members
RSVP
https://VeganWagon.com/product/nov08
For a List of All Current Events
https://VeganWagon.com/events
Vegan Wagon is a lifestyle brand and social club that celebrates plant-based life. This club attracts some of the most influential, conscious, and passionate vegans worldwide. Come for the Food and Health Benefits but stay for the Pop-Up Dinners, Socials, Special Luxury Events, Exquisite Parties, Live Educational Lectures, Culture, Special Guests, Celebrities & Leaders, Singles Mixers, Retreats, Workshops, Excursions, Escapes, Secret Gatherings & Getaways!
MEMBERSHIP
https://VeganWagon.com/member-content/