Episode 3 w/ Ingrid Newkirk
Ingrid Newkirk, PETA co-founder, and president joins SoFlo Vegans founder, Sean Russell for a discussion about animal rights and being a leader in your community. Green Bar & Kitchen owner Charles Grippo shares his thoughts about the growing vegan community in South Florida and learn how you can win tickets to see the new Natalie Portman documentary, Eating Animals. All this and more on the SoFlo Vegans Podcast.
Subscribe and leave comments on the following platforms.
Introduction
The host is Sean Russell

Learn more about SoFlo Vegans on our about page

Interview with Ingrid Newkirk, co-founder, and president of PETA

Contest to give away tickets to see

Eating Animals

at the Stonzek Theatre in Lake Worth.
Interview with Ingrid Newkirk
What was the catalyst for the creation of PETA?

What changes have you noticed in the Animal Rights movement since the 70s?

Are we at the tipping point when it comes to creating awareness for animal rights?

What advice would you give to people looking to become leaders within the movement?

How does she deal with the negative comments directed at their organization?

Recommended resources: Issues in 30 Second Videos, Cruelty of Sheep Shearing, Vegan Starter Kids, Choices for Teachers, Parents, and Children
Interview with Charles Grippo (Owner/Chef at Green Bar & Kitchen)
Why did you decide to open a plant-based restaurant in South Florida?

Tell us about your work with charitable organizations.

What can someone expect to experience coming to your restaurant for the first time?

What are some things you would recommend from your menu?

What is an underrated item on your menu?

What are some difficulties you face as a business owner specific to running a plant-based restaurant?  

How can the community support your business?

Any advice to plant-based business owners or anyone looking to venture into this space?

Closing Remarks
National News
Plant-Based Product Claims Spike By 62 Percent in Four Years

Source

VegNews

Report by Innova Market Insights found that plant-based claims increased by 62 percent worldwide between 2013 and 2017.

This includes plant-based proteins, active botanicals, sweeteners, seasonings, and food colorings.

Plant-based product development is increasing by a compounded annual growth rate of 11 percent from 2013-2017.

Dairy Alternatives and meat substitutes can take a lot of the credit for raising the awareness levels of shoppers.

Tempeh is also rising in popularity and is expected to reach a value of $5.8 billion by 2026.
Local News
Discount Card Program

Cards are being sold for $10.

Found on the SoFlo Vegans website or go directly to soflovegans.com/card

New partners include The New Vegan, Screaming Carrots, Vegan Fine Foods, Holi Vegan Kitchen, Juno Bruno Organic Vegan Hair Salon and That Vegan Food Truck. Go to our Discount Card homepage to see our full list of partners.

The card pays for itself after one or two visits.

Support our movement and local South Florida businesses by sharing and liking our posts on Facebook, and Instagram.

Win Tickets to See the Documentary, Eating Animals

Holding a random drawing to give away 2 pairs of tickets to see Eating Animals at the Stonzek Theatre in Lake Worth. The tickets are good from July 30 until August 2.

In order to enter, you must visit our

Staying Connected page

and follow us on our different social channels and download our mobile app. Leave a message in the comments of this episode's show notes with your results and you're entered.

If you have any questions, email [email protected].
What's Next?
An Interview with

A spotlight of a local vegan restaurant

News, A brand new contest and much more

About SoFlo Vegans Podcast
The SoFlo Vegans Podcast is your gateway to what's happening in the world of veganism. We feature prominent names in the global vegan community including the likes of Earthling Ed and Ingrid Newkirk and also showcase leaders in the South Florida community, providing answers to your questions about going or staying vegan. Listeners can submit questions using our voice line and hear their questions featured on our show.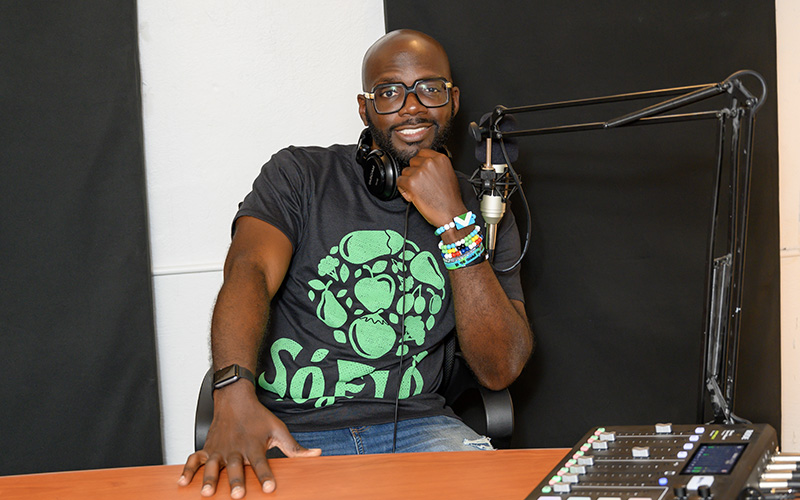 Sean Russell
General Manager | Founder

Sean Russell is an entrepreneur, media producer, and founder of SoFlo Vegans.