Episode 2 w/ Earthling Ed
Earthling Ed joins SoFlo Vegans founder, Sean Russell to discuss some of the controversy surrounding vegan activism, his work with nonprofit organizations and his impression of vegan communities around the globe. We also look at some highlights in the world of vegan news and local events in the South Florida community.
Subscribe and leave comments on the following platforms.
Earthling Ed Interview Part 2/2
What is his take on vegan activist being considered extremists?
Advice for leaders in the vegan movement, based on lessons from the past.
Earthling Ed talks about the Animal Rights March and his nonprofit affiliations.
Takes on clean meat and potential impact on animal farming.
His vision for the world in regards to the work that he's doing for animals.
Impressions of thriving vegan communities around the globe.

National News
Starbucks Adds Vegan Coconut Latte to Permanent Menu

Source

VegNews

Vegan Iced Vanilla Bean Coconut milk Latte

Made by shaking dairy-free vanilla powder and coconut milk, before adding a shot of espresso on top

Added almond milk to its menu in 2016

Starbucks to Eliminate Plastic Straws by 2020

Estimates of more than 1 billion plastic straws will be removed per year from more than 28,000 stores.

Recyclable, strawless lid made with polypropylene, designed by Starbucks Global Research & Development engineer Emily Alexander

Customers who desire straws can ask for a paper straw or PLA compostable plastic made from fermented plant starch.

Stores in Seattle and Vancouver, British Columbia will be the first to use the recyclable lids, with other stores following by 2020.

In 2016, the World Wildlife Fund issued a warning that predicted that fish would be extinct by 2048 if current plastic pollution and fish consumption practices continued

Costco Ditches Hotdogs for Plant-based Options

According to the Seattle Times, Costco is removing the Polish hot dog from many food court locations nationwide to make room for new items such as a meatless Al Pastor Salad and a vegan acai bowl.

Animal-Rights Documentary Dominion is now Available Online

Watch.dominionmovement.com starting July 13, 2018.

Rent for 72-hours for .99 or buy or $4.95

Follow-up to 2014 Australian documentary Lucent, narrated by Joaquin Phoenix

Regarded as Australia's version of the acclaimed documentary Earthlings.

Currently under consideration to be added to Netflix. This process, however, can take two to three months. Visit our show notes for a link to help the process.

Actor Leonardo DiCaprio invests an undisclosed amount in vegan brand, Califia Farms

Not a confirmed vegan, but is fighting the negative environmental impacts of animal agriculture.

Last year invested in Beyond Meat.

Local News
SoFlo Vegans Eat

This Saturday we will be hosting our SoFlo Vegans Eat event at Indian Harbor in Fort Lauderdale

Family Style, three-course, tons of delicious food and great people

Visit soflovegans.com/eat for more details

Purchase in advance or the day of the event

Vegan Wristbands

Inspired by the Vegan Flag that was adopted on June 9, 2017

Gad Hakimi, in cooperation with a group of graphic designers and activists from several countries.

Discount Card Program

Designed to create foot traffic for local vegan businesses and festivals

Free registration for local businesses until the end of July 31st.

Selling cards for $5.00 until July 31st.

What's Next?
Interview with PETA co-founder and president Ingrid Newkirk

A spotlight of a local vegan restaurant

News, Contests and much more

About SoFlo Vegans Podcast
The SoFlo Vegans Podcast is your gateway to what's happening in the world of veganism. We feature prominent names in the global vegan community including the likes of Earthling Ed and Ingrid Newkirk and also showcase leaders in the South Florida community, providing answers to your questions about going or staying vegan. Listeners can submit questions using our voice line and hear their questions featured on our show.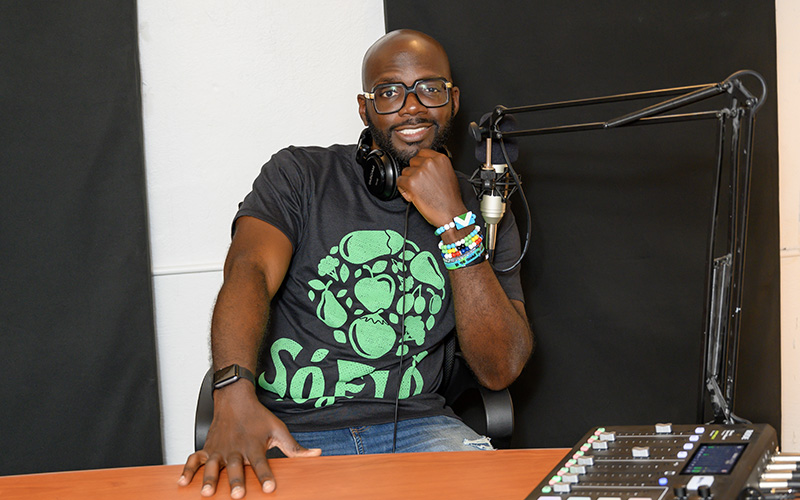 Sean Russell
General Manager | Founder

Sean Russell is an entrepreneur, media producer, and founder of SoFlo Vegans.