Meet our member Kona, who has been SoFlo Vegans' Mascot for many years now! Below we share Kona's background, interests, favorite food, and more. Show her some love in the comments below! 
Name
Kona Chen, means Lady Sunrise in Mandarin and Hawaiian, but Kona for short.
How long have you been vegan, how did you start?
Almost 6 years, I was adopted when I was one, adopt, don't shop!
Mommy said that it would be better for me and I love it! So much yummy food to try without harming my fellow animal friends.
How long have you worked at SFV? How did you start?
Mommy started bringing me to the events four years ago, Sean saw that I was very chill, and how people responded to me at events and how I can rock our SFV wristband like no one can! I became SFV official dog three years ago, but it is not easy. Everyone assumes that it's all belly rubs and hanging out, but it's so much more than that.
What are your duties at SFV?
As the official dog, I constantly have to try new doggy treats, take pictures with everyone, make multiple appearances on social media and schmoozing with various personalities; while still trying to get my various naps in. I believe in self care.
Interesting facts or talents you want to share
I love traveling by car or plane.
Favorite food
I like everything but my favorite treat is from V-Dog and french fries.
Career outside of SFV
Friend to anyone, as long as you pet me and bring me treats.
Community Showcase is about appreciating those who contribute and support causes, events, and efforts within South Florida.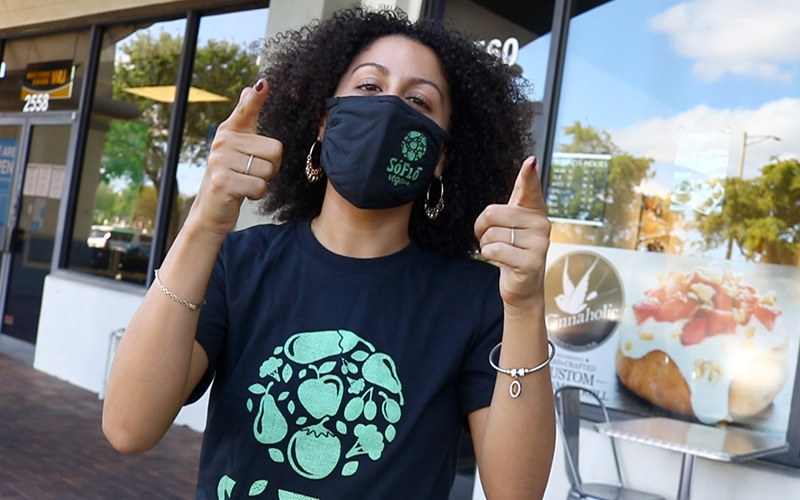 Lauda Gomez
Council Member | Event Manager

Lauda has been a long-time supporter of SoFlo Vegans and became the first member of our Council of 7 in March 2021.
Community Matters
Learn how you can help SoFlo Vegans continue showcasing and supporting the vegan community in South Florida.