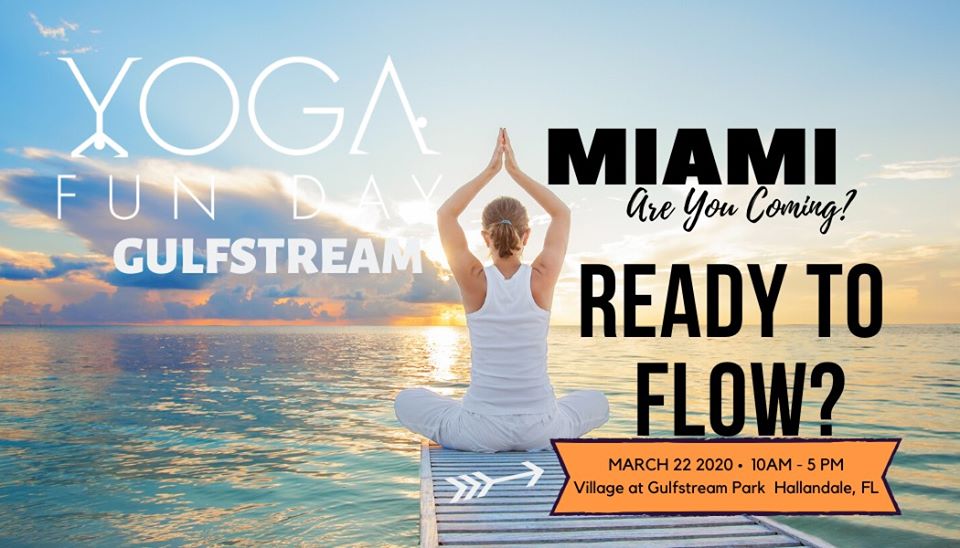 Yoga Fun Day Gulfstream
We are delighted to announce that Yoga Fun Day will be in Miami on Sunday, March 22nd. We have partnered with The Village at Gulfstream Park and Community Conscious Coalition to bring Yoga Fun Day to Miami! This family friendly yoga and wellness event is in it's fourth year and is a crowd pleaser. This is your chance to sample a plethora of yoga, dance and meditation classes from studios from all over South Florida and beyond. Our mission is to bring yoga to all, We want to encourage you to get off the computer and come on out with your family and friends to discover the joy of yoga, dance and movement classes in a safe and fun environment with some of the best studios and teachers in Florida and beyond.
The 1st Annual Yoga Fun Day Gulfstream is coming to Miami.
Don't miss out! Get your early bird tickets now as prices go up at the door.
PLEASE NOTE: CLASSES, TEACHERS AND SCHEDULE CAN CHANGE AT ANY TIME. MOST RECENT SCHEDULE IS POSTED ON WEBSITE.
Unlimited Classes and Workshops from the best studios in South Florida and beyond. Classes require a paid ticket with a wristband for entrance. Vendor Village is FREE to the public and the Kirtan music and all other music that day is FREE to the public as well as the Community SAM Talks which are also FREE to the public. Don't miss this epic family friendly event!
With a paid ticket you get to choose from beginner, intermediate and advanced classes in yoga, dance and meditation as well as any of our workshops. We also have kids classes all day long for only $10.
Get your tickets now for this event offering amazing and iconic workshops for your Mind, Body and Soul.
FREE Vendor Village
FREE Live Music
FREE Community SAM Talks on spirituality, awesomeness and mindfulness.
FREE Parking
Over 25+ Classes/Workshops
All ages welcome. All abilities welcome. Get out and discover the joy of yoga at this family friendly yoga festival.
Once you purchase your tickets, you will receive an order confirmation email from Eventbrite, YogaFun Day's ticketing partner. Your e-ticket(s) will be attached to your order confirmation email. Important: if you do not see your order confirmation in your inbox, make sure to check your junk/spam folder. If you can't find it there, either, click here to access the Eventbrite help center.
Sorry No Refunds. Rain or Shine Event.