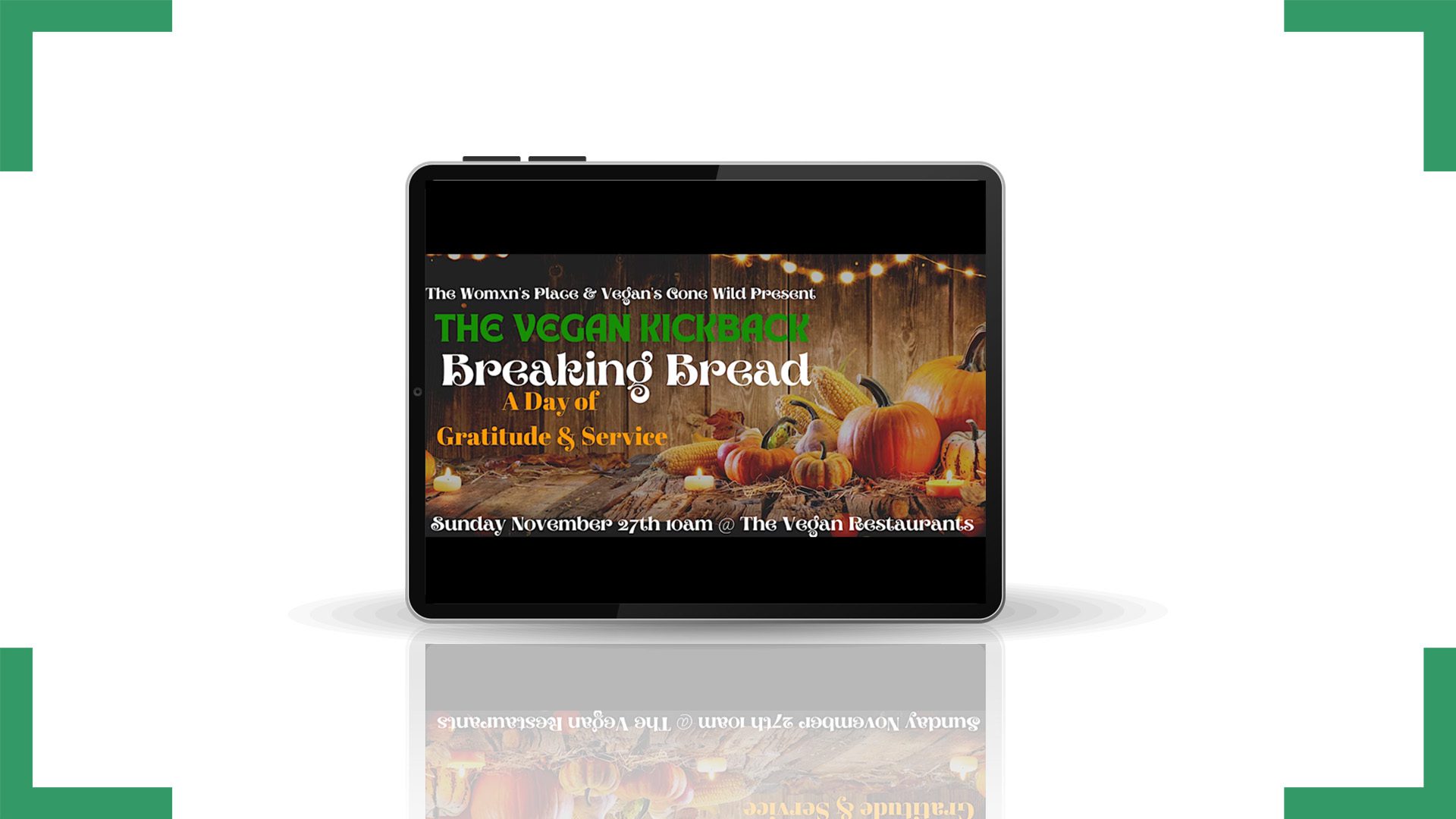 The Vegan Kickback: Breaking Bread. A Day of Gratitude and Service
The Womxn's Place and Vegan's Gone Wild Present.
The Vegan Kickback- Breaking Bread.
Putting a Vegan spin on the holiday tradition, join us on Sunday, November 27th, for a Thanksgiving to remember!
Kicking off the day with a community service project: Helping Hands on the Farm. Cohosted by The Womxn's Place and the Sisters of the South Florida Alumnae Association of Sigma Lambda Gamma National Sorority, Inc.
We recognize that showing love doesn't always have to come via a monetary payment. But can be done with service and time. There's always something that needs attention on a 10acre farm. Learn how to plant and grow your food during this three hour community service project. For those of you that are interested in participating as a volunteer, please contact organizer Stephanie Lopez at 561-827-0950.
Between the hours of 1pm-4pm, vegan food vendors will be available on the farm for an assortment of your FAVORITE holiday novelties.
Confirmed Vendors include:
The Vegan Restaurants
Katy's Love Bites
Nom Bucket
La Chia Vegana
At 4:00 pm, all vendors will finish selling food, and a special COMMUNAL VEGAN THANKSGIVING DINNER will begin at 4:44 pm. Dinner includes prayer, a space to give thanks and to come together and BREAK. BREAD over a cruelty-free meal. For patrons that want to be part of this very special moment, save your seat with the $10 RSVP ticket. There are 40 spots available to participate. We highly encourage those of you coming to stick around and kick back. 90's hip-hop and a BYOB.
VEGAN MAC & CHEESE CONTEST! $15 entry. What kind of a potluck would it be without a little community involvement? Show off your mac daddy skills and enter the Vegan Mac and Cheese contest! The winner takes home half the entry fees and major bragging rights! 2nd and 3rd will split the other half. Vegan restaurants are not allowed to participate but will be the contest judges. The winner will be decided at the communal dinner.
Donation-based programs will be held between 1 pm and 3 pm. More details soon to come.
GRATITUDE -GRATITUDE- GRATITUDE
Ticket sales will end for the RSVP dinner on 11/24, Thanksgiving Day. Guests are HIGHLY encouraged to download the app Innatap for future events.
Parking is free on-site. The Kickback is always pet friendly. Please keep your furry friends on leashes and clean up after them. If you have any questions, please call/text Stephanie Lopez at 5618270950.