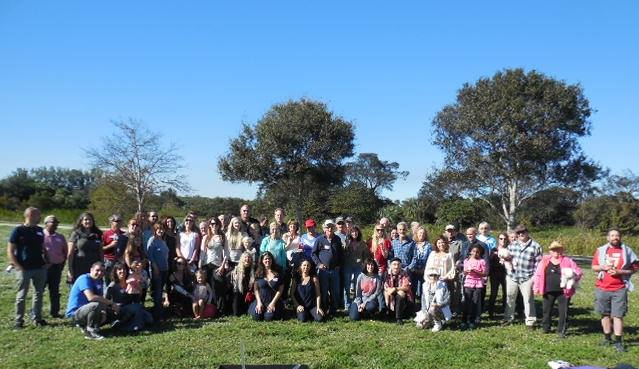 Thanksgiving Vegan & Raw Vegan Picnic in Delray Beach
Every Thanksgiving the Palm Beach County Vegetarian Society puts on a Thanksgiving potluck. I had the pleasure of going last year and really enjoyed myself. The organizers work really hard to put this event together and it would be great to show them your support. Be sure to share this link to help increase attendance.
PLEASE BRING:
• A vegan dish to share, with a note listing the ingredients and your name.
• $5 donation per adult (cash only).
• Reusable plate, utensils & water bottle.
Let's celebrate the Thanksgiving holiday together with our friends and families in a beautiful park setting. Share your favorite potluck dishes and great conversation. Feel free to invite others!
In order to accommodate both vegetarians and vegans, PLEASE BRING A DISH THAT CONTAINS NO ANIMAL PRODUCTS (NO MEAT, POULTRY, FISH, EGGS, DAIRY, OR HONEY). We will have a separate section of the buffet table for RAW VEGAN!!
For ideas & recipes visit www.vegweb.com or http://www.therawtarian.com/ or search the web for "vegan recipes" or "raw vegan recipes". It's easy…vegan is everywhere! Please bring a note with a list of the ingredients for your dish & your name, and let everyone know what you're bringing in our comments section. Don't worry if you don't have time to cook. Every picnic needs fruit, veggie platter, creative salads, hummus, chips, etc., (even kombucha, wine & beer!)
Please bring your own plates and utensils in order to have a more environmentally friendly feast. We will have a supply of paper plates, bowls, cups, napkins, utensils, and bottles of water for those who need them.
***BRING DONATIONS OF DOG & CAT FOOD IF YOU LIKE*** We will be collecting DOG & CAT FOOD to donate to www.kibblezoflove.org. Kibblez of Love assists struggling families in Palm Beach and Broward counties feed their pets as well as offer referrals for low cost vet care and sponsor spay/neuter surgeries for their pets. Their goal is to keep family fur members home and out of the shelters.
The picnic pavilion seats 200 people and has restrooms, electrical outlets, & water spigots.
Please feel free to bring frisbees, games, blankets, bicycles, etc. Please also feel free to bring guitars and other musical instruments – including your voice – to entertain if you like.
PARK RULES:
• The Park closes at 5:30, so try to arrive early.
• Dogs are WELCOME on a leash up to 6 feet long.
• Beer & Wine ARE allowed.
• Fireworks are NOT allowed.
• Amplified music is NOT allowed. (a small radio is OK).
DIRECTIONS TO THE PICNIC:
The South County Civic Center is located on the east side of Jog Road in Delray Beach, between Linton Blvd & Clint Moore Road.
FROM I-95, exit at Linton Blvd and go west. Turn left on Jog Road and drive a short distance to the Civic Center on the left. The pavilion is behind the parking lot.
FROM FLORIDA TURNPIKE, exit at Glades Road if coming from the south, and go east to Jog Road. Turn left on Jog Road. The Civic Center is just a bit past Clint Moore Road. If coming from the north, exit the turnpike on Atlantic Ave and go east. Turn right on Jog Road. The Civic Center will be just a bit past Linton Blvd.
FROM U.S. 441 (State Road 7), go east on Clint Moore Road. Turn left on Jog Road. The Civic Center is on the east side of Jog.
SEE YOU AT THE PIC-A-NIC!