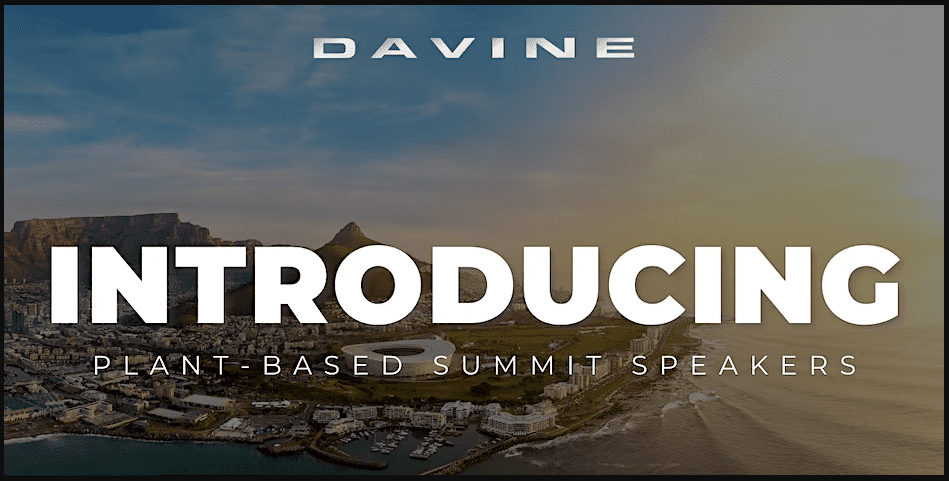 PLANT-BASED SUMMIT – SPEAKER INTERVIEW [MIAMI]
INTRODUCING PLANT-BASED FOODS' FOREMOST GLOBAL LUMINARIES!
Greeting Friend!
Over These Next Few Weeks – We're Hosting A Series Of Interviews – "INTRODUCING" – You To The Global Creators, Entrepreneurs, Influencers – Featured As Talent For Our Upcoming Summit!
Your Official Gateway To Our – Global Ecosystem Of Over 30,000+ Builders [Fellow Entrepreneurs In Emerging Industries] Across 77+ Countries – And Multiple Languages!
Be Sure To Click Below To Secure Your Virtual Access!
Your Partners In Growth & Success,
-The DAVINE Ecosystem Success Team
_____________
_____________
FREQUENTLY ASKED QUESTIONS [PLEASE READ]
1. WHAT IS THIS EVENT POST?
2. LOCATION AND RSVPING
Please note, each interview will be conducted solely online, not in person. Moreover, selecting "RSVP"/ "ATTEND" on this post only expresses your interest in attending, it does not add you to the official list to receive your virtual access link to view LIVE. To complete your FREE registration, and gain access, be sure to register here.
3. MULTIPLE LANGUAGES
The show will be conducted in one language live, then translated into multiple languages for the Replay/ On-Demand version.
4. COST TO ATTEND
The Interview Is FREE to watch in View Only mode. With the ability to gain access to Chat/Q&A, and Replay Access with paid upgrade.
5. REPLAY AND CHAT ACCESS
LIVE Interactive Chat, Q&A, and Replay access is available with paid upgrade.
6. HOW TO ACCESS THE SHOW
We've created a seamless log-on experience, with no downloading or special browser required. Once you successfully complete your registration – HERE – you'll receive an email with the LIVE link 72 hours before we go LIVE, along with quick and simple access instructions.
7. ADDITIONAL QUESTIONS
For additional questions, suggestions or feedback, be sure to complete the contact form here.
****** DISCLAIMER***
Please note, that this experience is solely for the purpose of education, and entertainment. As Cannabis, Hemp, CBD, and THC still remain illegal in various countries across the world, there will be no selling of cannabis, hemp, CBD, or THC in ANY form.
_____________
_____________