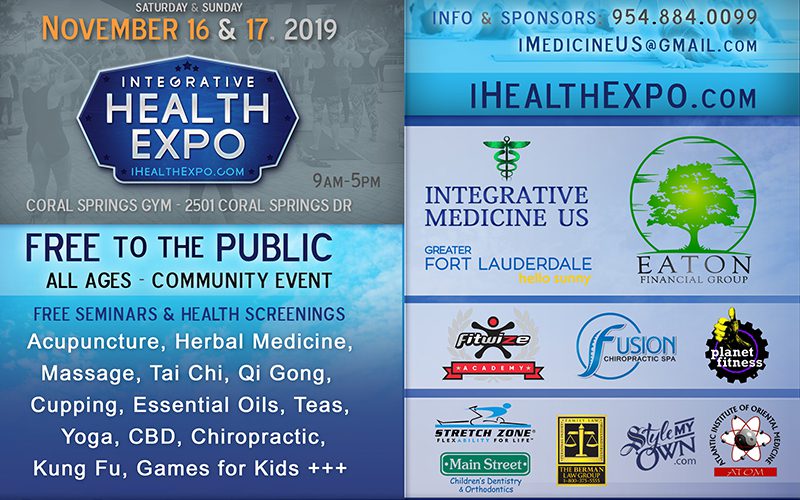 Coral Springs Health Expo & Kung Fu Tournament
In an effort to face our nation's growing health crisis, curb the opioid epidemic and deal with our mental health issues, Integrative Medicine US, is organizing the 2nd Annual Integrative Health Expo and Legacy Kung Fu Tournament.
The goal is to engage the community and initiate action by taking preventative measures such as; exercise, lifestyle & dietary changes, and mindfulness practices. These methods have been scientifically demonstrated to improve public health and wellness. We are also committed to connecting patients with reliable and caring conventional health providers.
The event is completely free to the public and will feature classes for beginners on: tai chi, qi gong, yoga, boot camp fitness, break dancing, stationary surfing, activities for kids and adults, as well as exhibitors providing details and treatments on acupuncture, chiropractic, massage, dentistry, CBD and more. To add a little excitement, there will be a kung fu tournament with hundreds of high flying competitors from across the country, an opening ceremony with a lion dance and drumming and seminars on traditional Chinese medicine.
Integrative Medicine US founder, Dr. Jonathan M. Fields AP, DOM, is a Coral Springs resident since 1988 and is dedicated to bridging the gap between what is considered alternative and conventional treatments. Dr. Fields says, "I've seen patients in my practice make significantly quicker and dramatic improvements when combining Eastern and Western medicine. The general public is still confused and weary of natural forms of medicine despite thousands of years of successful outcomes. That's why it's of utmost importance to educate them and increase communication between physicians".
The event is being supported by The Fort Lauderdale Convention & Visitors Bureau, Eaton Financial Group and the non-profit, Fitwize 4 Kids.
DATES: Saturday & Sunday November 16 & 17, 2109 from 9am-5pm.
LOCATION: Coral Springs City Gym – 2501 Coral Springs Dr, Coral Springs, FL 33065
MORE INFO:
www.integrativemedicine.us/health-expo
FB & Insta: @imedicineus
954.884.0099
Integrative Medicine US is a full-service clinic offering acupuncture, functional medicine, nutrition, medical massage, vitamin injections, supplements, physiotherapy, tai chi, qi gong, and meditation.
Dr. Jonathan M. Fields AP, DOM is an Acupuncture Physician, Doctor of Oriental Medicine and 4th Dan Martial Arts Instructor who has trained throughout the US and China since 2004.