Check back every Sunday to see what you've missed. The Council Newsletter is available only to Council Members and Advisors.
Council Meeting Agenda
Please review the information in the following toggles by clicking on the title to expand.
Goals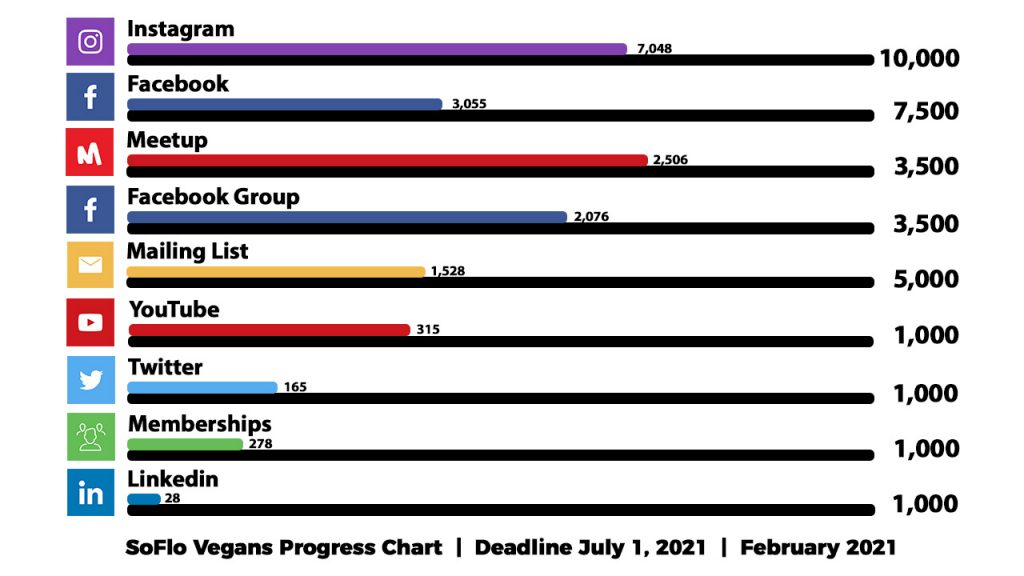 What's New?
Check out our brand new mobile application.
You can now have quicker access to our resources to promote SoFlo Vegans.
We developed a job board in response to businesses looking for qualified employees.
As a registered Council Member, you can post your resume directly to our site. 
Over a dozen new events are listed on the site.
Post your events directly to our calendar pending approval.

Looking for a Web Producer to help keep 

events updated.
Take a behind-the-scenes look at SoFlo Vegans' progress.
This update is for the general public and covers new SoFlo Vegans content, national news headlines, and local events.
Action Items
Use the Support Page to follow us on all of the social channels to help increase our reach.
Take actions throughout the week to help grow all platforms
Choose at least one campaign manager or producer position to support SoFlo Vegans
Our in-person meeting is scheduled for March 29 at 7 PM (location TBD)
Please Review and Choose a Role
Consider taking a leadership position in one of our many events. You will receive support from the Lesaruss Media team to complete each task. Expect to dedicate between 5-10 hours a week for each position.
Campaigns
Click to read each overview to see which opportunity is right for you. Each campaign can have up to two managers. You can sign-up for more than one campaign. Just allot between 5-10 hours per week to volunteer your gifts.
SoFlo Vegans Pop-Up

Scavenger Hunt

Plant-Based Showcase

SoFlo Vegans Digest

Being Vegan in South Florida
Productions
Help manage various productions by coordinating and producing content.

SoFlo Vegans Podcast
SoFlo Vegans Spotlight
SoFlo Vegans Chronicles
SoFlo Vegans LIVE
Newsletters